To date, the Energy Institute of Louisiana (EIL) has implemented over $30M of projects over the past 5 years. Sponsorship of these activities include government (federal and state [NASA, La Board of Regents, La Department of Natural Resources, DOE, NSF, etc.]), industry (Cleco, Chevron, Coastal Chemicals, Northstar Resources, etc.), and University sources. To date, UL Lafayette has invested over $20M of R&D fixed assets to support the R&D activities of the institute. The EIL has excellent laboratory, pilot, and full scale R&D capabilities for supporting the proposed initiative. 
The EIL is also involved in various student technical design competitions in support of the various academic units on campus. Students via EIL funding have been sent to several international meetings to participate in energy related forums and informational schools. Additionally, the EIL has served as a host facility for visiting students from numerous countries. Below are two examples of energy-related student events that UL students participated in during 2016.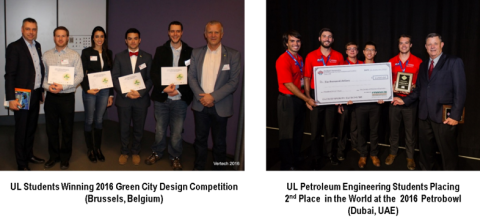 UL Lafayette Student Team
From left to right: Gabriela Barlabe (Business), Ashley Mikolajczyk (Chemical Engineering), Dhan Lord Fortela (Chemical Engineering) & Jorge Belgodere (Chemical Engineering).
This EIL-sponsored team that represented UL won 1st place during the Vertech City - An International Project Competition on Technological Innovation & Green Chemistry on March 13-16, 2016 in Belgium. The team's project was "Sewage-to-Wattage: Demonstrating the Feedstock Potential of Waste Residuals as Renewable Chemicals and Fuels."